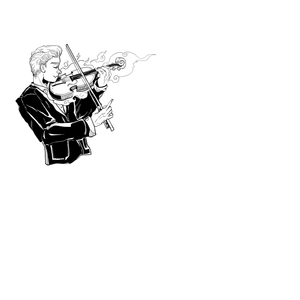 Prelude || Roots and Inspiration
Gian Carlo Mangua was born in Jeddah, Saudi Arabia as a son of two Overseas Filipino Workers (OFW). He spent his childhood enjoying video games, anime, and geek pop culture. These went on to influence his direction and inspiration for his musical journey. He would oftentimes find himself musing over and over with that one amazing melody he heard during a video game match with his friends or remember a certain score from a movie that gave him so much bliss. Desiring to go deeper with his amazing audible experiences, he decided to take in an instrument to learn the theory behind making music.

A Journey Unfolds || Band Guitarist and Orchestra Violinist 
He picked up the guitar and proceeded to study and play his favorite songs. This eventually led him towards joining his local school band, Rose Bush, as an electric guitarist and compete in an inter-school Battle of the Bands. The band succeeded in winning the championship title and this further inspired him to hone his craft. 
In his Junior High years, he desired to take violin lessons and further expand his musical expression with the instrument. His first violin teacher, who is also a conductor and musical director of Serenata, took him in as part of its string chamber orchestra. This orchestra was composed of Filipino youth who are children of OFW's. There he discovered the musical beauty of the orchestral ensemble and was in awe of how music can be a catalyst towards achieving purpose driven goals. At his Senior High Year, he was elected as the President of the orchestra. He completed his final performance with the orchestra as the assistant concertmaster and head of the first violin section before he graduated and went to the Philippines for college.

Pages Yet to be Written || The Quest to Discover Music and Purpose
Over the years, he went on to continue learning the violin as his main instrument, He performed with various bands and gigs as part of his journey. He eventually started a YouTube channel as a platform to catalog his musical portfolio. He took in the name Oasis Firefly which was inspired by his childhood and beliefs. He also took his time to learn mixing with Reaper as his digital audio workstation for his works. He enjoys making musical arrangements utilizing his prior experience with his instruments. He still continues to take in violin lessons to further expand his knowledge while studying techniques used by composers and music producers in order to tell stories with music.
He graduated with a degree in finance and currently works at an investment banking industry specializing in portfolio analytics. He is also involved in his NGO, Loving Street Children PH-ASIA, as part of his personal advocacy for youth empowerment.
Motto 
Welcome to the Fireflies' Sanctuary.
May you find light in this sound space. 
Let me be your flickering musical companion.
Mission
Create musical content that will communicate and bring goodness to my listeners through melodies and harmonies. 
Vision
Connect and collaborate with various artistic talents around the world.
References: 
          Serenata is nonstock, nonprofit, cause-oriented organization to uplift the socio-economic standard of the marginalized sectors of the Philippine society by producing world-class performances for a charitable cause, and promotes the Filipino culture and values and global image. It consists of a Working Committee, a String Chamber Orchestra and a Choral Group composed of children of Overseas Filipino Workers (OFW). It was accredited by the Philippine Consulate General in Jeddah on August 25, 2005. 
          Loving Street Children PH-ASIA is a non-government organization that commits fundraising projects aimed towards the development of abandoned and underprivileged children at specific target communities in the slums of Manila. The organization regularly engages with a collaborative community of volunteers to achieve its mission in building meaningful relationships with these children and fulfill its vision of bringing hope to every child in the slums. 
         Oasis Firefly is Gian's artist name. The former word comes from nostalgic childhood experiences in the Middle East that shaped the core of who he is. The latter word represents a small insignificant being with a short and fragile life. This being, however, emits a vibrant light that is beyond its own comprehension. With this sentiment, the little bug keeps on flying throughout its journey in hopes that the light it carries continues flickering in the entirety of its life.